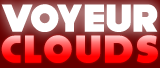 FREE VOYEURCLOUDS: The instant photo pages for erotic amateur
photography featuring real wives, real girlfriends and candid voyeur pics.
Submit your sexy photos and rate others.Operated by Igor and gang.
How to self remove your tittie photo from the system:
You need:

1. Your Tit Pic ID number (it is diplayed on your tittie pic page)
2. Your Removal Password
3. The email addy, which you entered upon submission.